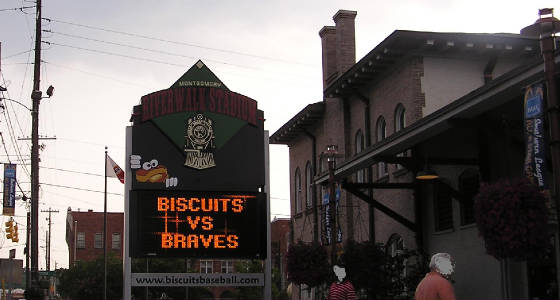 TEAM ::: MONTGOMERY BISCUITS
LOCATION ::: MONTGOMERY, ALABAMA
MY FIRST VISIT ::: JULY 3, 2006
OPPONENT ::: MISSISSIPPI BRAVES
LEVEL ::: SOUTHERN LEAGUE 'AA'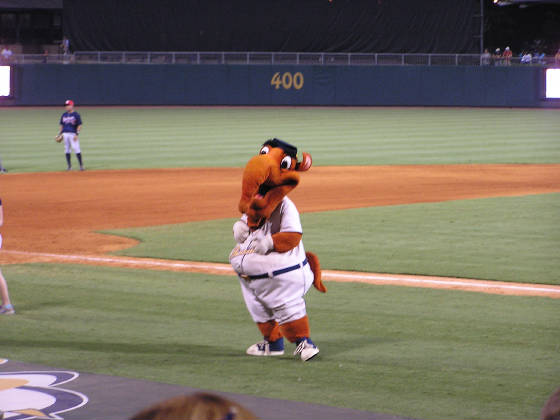 RATINGS

BALLFIELD ::: A+
SCOREBOAD ::: A
FOOD ::: A
FACILITIES ::: B
MASCOT ::: A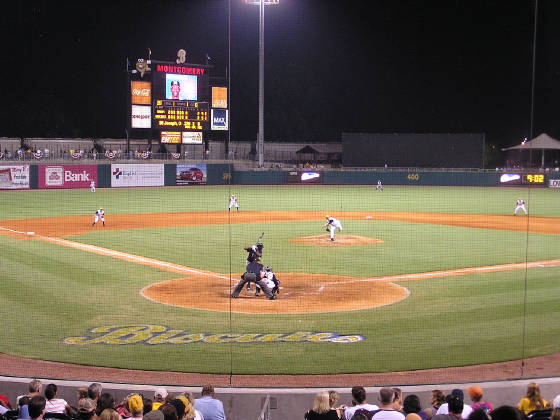 MY TAKE ON THE PARK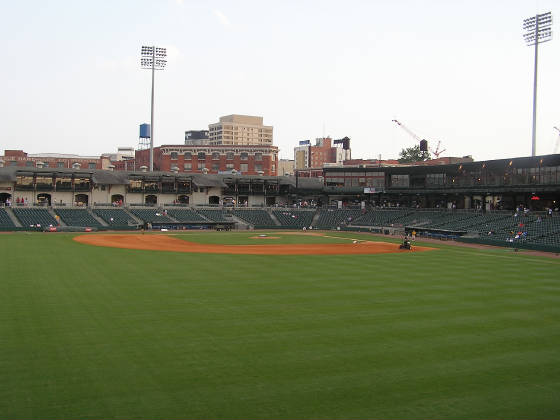 LOCATED IN THE CAPITAL OF ALABAMA, THE TEAM WITH THE FUNNY NAME, BISCUITS, PLAYS IN WHAT HAS TO BE THE BEST BALLPARK IN THE SOUTHERN LEAGUE.
I'M THINKING IT MAY BE THE BEST IN ALL OF DOUBLE 'A'.

LOCATED ALONG THE ALABAMA RIVER, WHICH I DID NOT GET TO SEE, IS RIVERWALK STADIUM.
IT IS CALLED RIVERWALK BUT THE RIVER IS NOT IN VIEW OF THE PARK. THAT IS OK BECAUSE THIS PLACE IS SO AESTHETICALLY PLEASING THAT NO OUTSIDE DISTRACTIONS ARE NEEDED.

UPON ARRIVING AT THE PARK, YOU WALK INTO THE 100+ YEAR OLD BUILDING, BUILT I BELIEVE IN 1895, AND USED BY THE ALABAMA RAIL COMPANY. IN MANY WAYS, MONTGOMERY COULD HAVE USED THE CITY SKYLINE AND THE TRAIN STATION IN THE OUTFIELD. INSTEAD THEY WENT ONE BETTER AND USED THE STATION BUILDING AS HOME FOR CONCESSIONS AND SKY BOXES.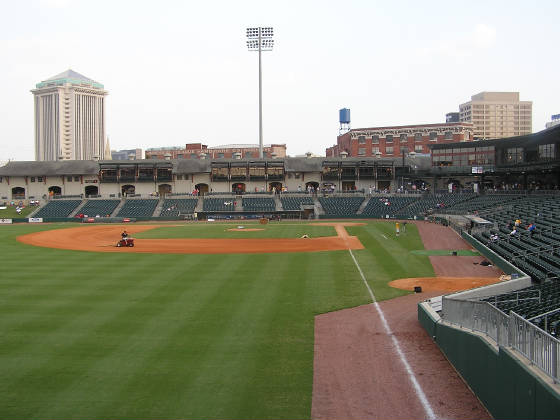 AFTER THE FRIENDLY TICKET TAKER SCANS YOUR TICKET, YOU SMELL IT. YES, THE TEAM NAME IS THE "BISCUITS" AND WOULDN'T YOU KNOW IT, THEY SELL BISCUITS HERE. WITH THE SMELL OF BISCUITS FILLING THE AIR, THE CONCOURSE AREA BEHIND HOME PLATE GETS BUSY QUICKLY. ALSO, I NOTICED DURING THE
GAME THAT THERE WERE NO VENDORS SO THIS AREA NEEDS TO BE SPACIOUS. THE CONCESSION FOLKS SEEM TO BE USED TO THE CROWDS BECAUSE ANY LINES I SAW WERE MOVING QUICKLY DURING THE GAME.

AFTER WALKING AROUND THE INFIELD AREA I DECIDED TO SEE JUST HOW FAR THIS CONCOURSE WOULD GO. IN MONTGOMERY, THEY USED MY FAVORITE DESIGN, YOU CAN
WALK AROUND THE FIELD ON A SPACIOUS WALKWAY.
ALONG THE BACK WALL IN LEFT FIELD, THERE IS A TRAIN LINE WHICH SEEMS TO GET PRETTY CLOSE TO THE
FIELD.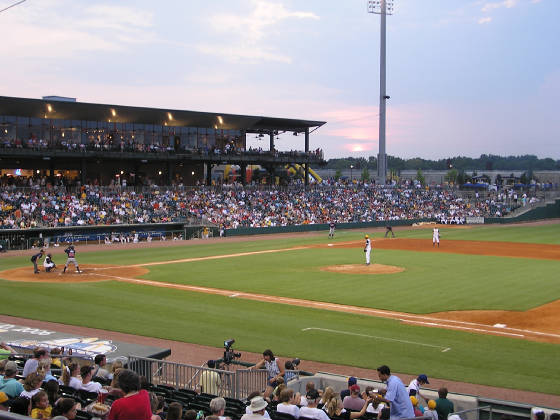 ONCE THE GAME BEGINS, THE BISCUITS DO THE RIGHT THING, THE GAME IS HANDLED VERY WELL.
THE GREAT LOOKING FIELD, THE QUICK UPDATES ON THE SCOREBOARD, AND THE MINIMAL BETWEEN INNING PROMOTIONS, THE GAME HERE IS NUMBER ONE.
IN LOOKING AROUND THE PARK, ANOTHER ASPECT I AM A BIG FAN OF IS THE RIGHT FIELD AREA. THE WALL IN RIGHT FIELD BUBBLES IN ABOUT 10 FEET MAKING A BIG LUMP BETWEEN RIGHT FIELD AND RIGHT CENTER.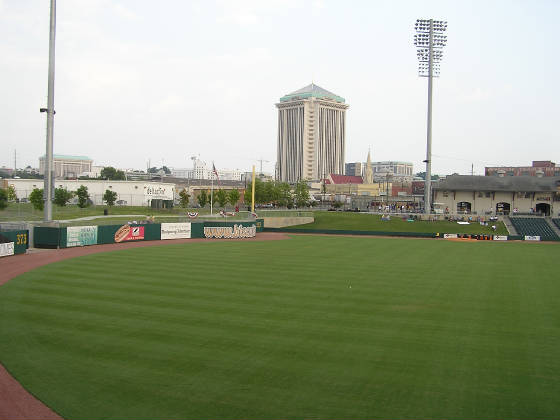 A TRIP TO MONTGOMERY IS AN ABSOLUTE MUST. THE STADIUM USED THE HISTORIC RAIL BUILDING AS PART OF THE STADIUM FOR THE FANS AS OPPOSED TO SOMETHING TO LOOK AT. THE PICTURES OF THIS PARK ARE MUCH BETTER THAN ANY
DESCRIPTION I CAN USE. THE PARKING HERE IS LOCATED ABOUT 2 BLOCKS FROM THE PARK BUT THERE IS ENOUGH TO ACCOMMODATE THE CROWDS THAT ATTEND
BISCUITS GAMES. THERE IS SO MUCH MORE HERE, THE MASCOT, THE FRIENDLY STAFF, AND THE SMALL SIZE OF THE PARK KEEPS EVERYONE CLOSE TO THE ACTION ON THE FIELD.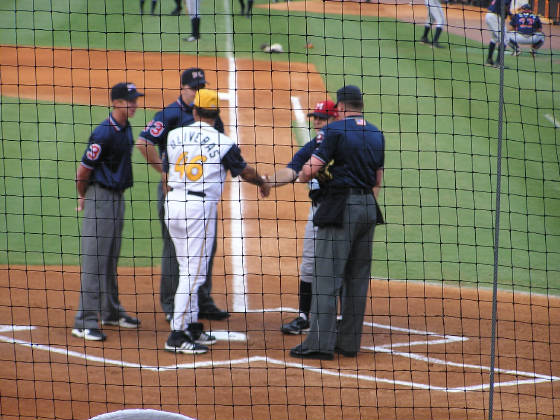 THE LINE UPS

MISSISSIPPI MANAGER :::
4 JEFF BLAUSER

MONTGOMERY MANAGER :::
25 CHARLIE MONTOYO

MISSISSIPPI BRAVES

28 Onil Joseph cf
11 Luis Hernandez ss
5 Yunel Escobar 3b
25 Brandon Jones lf
18 Mike Rosamond 1b
10 Bobby Darula rf
37 Ray Serrano c
22 Mike Rozema 2b
2 Josh Arteaga dh
34 Matt Wright p
38 Arthur Santos LP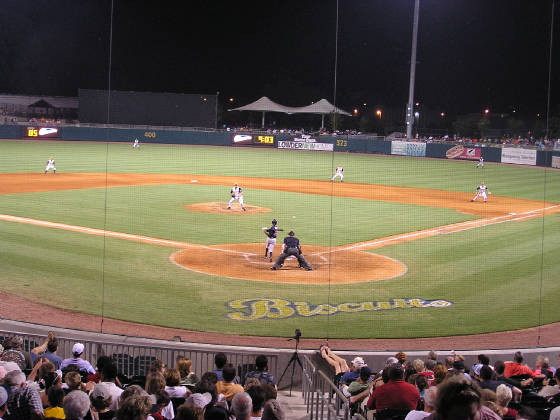 MONTGOMERY BISCUITS

8 Elliot Johnson 2b
9 Johnny Raburn lf
16 Wes Bankston 1b
30 Gabriel Martinez 3b
24 Michael Coleman dh
14 Ryan Knox rf
33 Jason Pridie cf
23 Chairom Isenia c
7 Matthew Maniscalco ss
10 Tony Peguero p
29 Jeremy Flanagan WP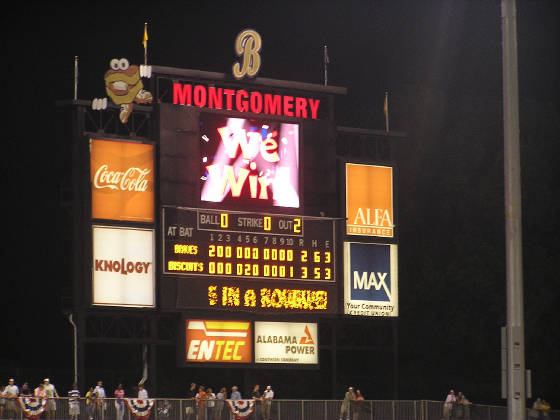 BRAVES 200 000 000 0 2 6 3
BISCUITS 000 020 000 1 3 5 3
2 OUTS WHEN WINNING RUN SCORED

TIME ::: 2:45
ATTENDANCE ::: 6,445
WEATHER ::: 95 PARTLY CLOUDY

SEND ME AN E-MAIL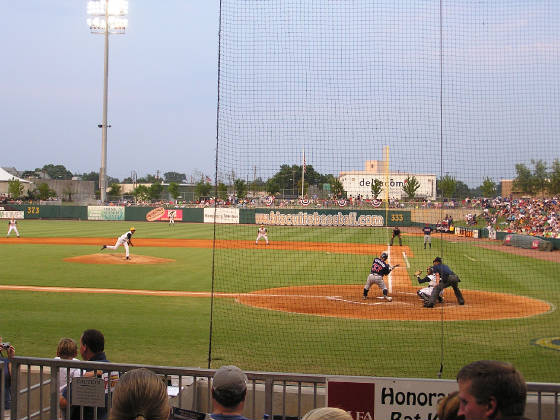 LINKS
The Official site of the Montgomery Biscuits
The National Civil Rights Museum